An update on AH's 2021 graphic design prediction
14 September 2021
Visit 2021 Predictions Webpage
Watch 2021 Predictions YouTube Playlist
At the start of the year, AH released a series of predictions of what lies ahead for associations and non-profits in 2021. We're revisiting those predictions each month to see what's changed as associations and non-profits continue to adapt.
Art has the unique ability to connect individuals across time and great distances. It's no wonder, then, that as people have found more creative ways to connect and find togetherness over the past 18 months, design trends have responded with themes that convey the same togetherness and connectivity audiences are craving.
"Connection with colleagues and connection with other professionals, which has primarily taken place virtually, is now slowly returning as we re-enter our offices and even attend some in-person meetings," Jenelle Kleiman, Creative Manager at Association Headquarters (AH) said. "The campaigns and designs we've created this year have been focusing on that connection."
As associations move into another year of creatively connecting their audiences, explore the design trends leading the way with AH's design team.
From Physical Forms to Abstract Designs
A recent design evolution was a result of a need to disassociate virtual events from in-person events. "Before the pandemic, most of the themes and conferences were using location-based imagery, and we still have some of that," said Amy Hall, Editorial Graphic Designer at AH. "But because everything's virtual, the location doesn't really matter. So, things have gone to abstract representation of what a digital conference can look like."
The result has been the use of abstract forms, like overlapping colors, shapes, and font types, in association event design. The flexibility of these themes work as the state of association events remains in flux, with events being planned for in-person attendance, as all-virtual affairs, or as hybrid events with both in-person and virtual components, bringing audiences together from around the world and in the same room simultaneously.
"A lot of the work we've done throughout the past year has been in preparation for events to shift to virtual in some capacity," Kleiman said. "To still convey the idea of connection, despite distance, we've used a lot of interconnecting lines and imagery that has points converging."
Connections Through Graphic Design
AH Client Partner, American Transplant Congress (ATC), had originally planned for its 2021 event to be held in-person in Seattle, Washington. With that in mind, Kleiman and AH's graphic design team initially created a location-based design to represent the famous Seattle-based Chihuly Gardens and Glass, making the design abstract enough so that if the event was to go virtual the artwork would still be relevant. When ATC announced that the event would be held virtually, the graphics worked for the new format, which helped ATC avoid losing momentum on event marketing communications.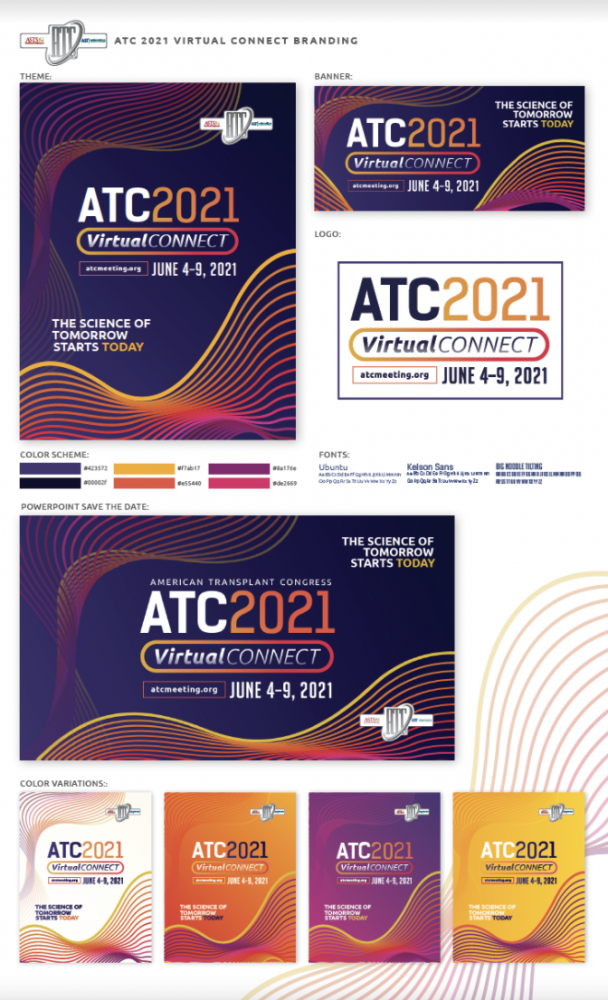 The artwork for ATC's virtual event was designed to be used for both in-person and virtually. The design drives the concept of staying connected even if attendees not physically there.
"The lines all flowing harmoniously and overlapping/connecting in certain portions of the design really drive home the concept of staying connected even if we're not all together physically," Kleiman said.
Virtual events have been heralded for bringing together vast audiences from around the globe. For the Osteoarthritis Research Society International (OARSI) to convey the idea of connection despite the distance, AH's graphic design team used interconnecting lines and imagery with points converging around a globe.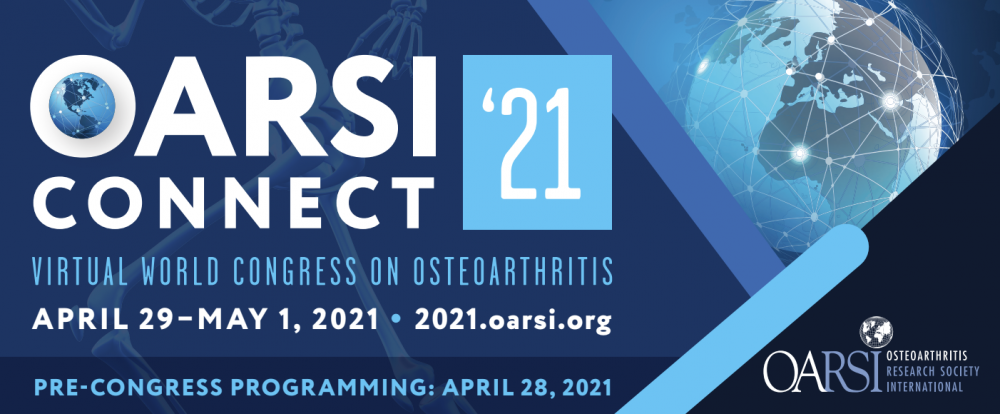 Using interconnecting lines and imagery, OARSI's virtual event showcased the idea of connection.
 
As 2021's Fall meeting season kicks off, connectivity is still in demand for association event designs.
"Clients are requesting the concept of connectivity to be reflected in their imagery in some way to still convey that these events, even if they are virtual, still bring members together," Kleiman said. "They still provide a place for innovation to grow and for minds to meet."
The Next Phase of Design
Like any art, what will be in demand next year is difficult to predict. However, Kleiman and Hall both cite examples of clients requesting a return to basics—real photographs as opposed to illustrations in editorial design, and an excitement for location-based event designs that bring hope to audiences anticipating a return to their beloved in-person meetings and events.
"Many of our publications are requesting more photographic imagery," Hall said. "Even though we have a very modern illustration style, many clients are moving away from illustration and back toward photography. Themes and events are still a mix of illustration and photography." The return to photography is mirroring the in-person, real-world events that have been missed, while connective illustration mirrors the digital space we have been in for much of the last two years.
While "connection" is still a key theme in design work, upcoming event design and branding work conveys the concepts of renewal and revitalization, displaying bright and fresh color schemes to invigorate viewers and capture an audience's attention. An example of forward-looking design is the recent work for the American Society of Transplantation (AST) created by Taramin Stuber, Senior Graphic Designer at AH.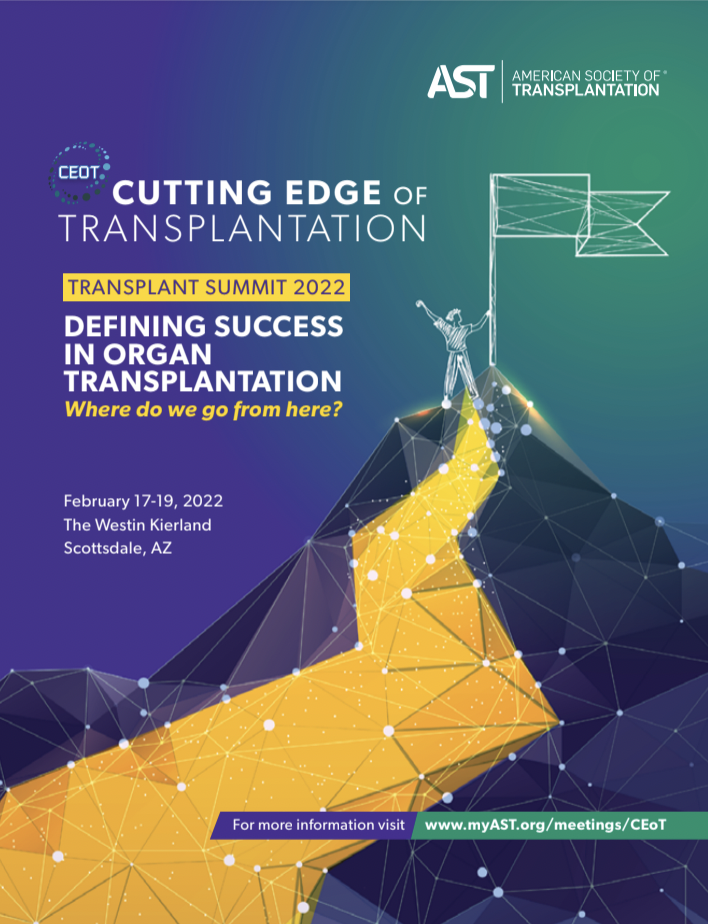 With a focus on the future, the design for AST's Transplant Summit 2022 event gives viewers a sense of hope for the future. The use of fresh color schemes will be used more often in the future of association and non-profit graphic design.
On the Transplant Summit 2022 poster, interconnected lines and dots overlay a mountain with a golden trail leading to a person at the summit holding a flag. The design simultaneously conveys what attendees can expect from attending the event—success—and that the event is the pinnacle of programming for the field. All strong concepts to communicate through visual design, yet Stuber sends each message clearly.
Connect to Your Graphic Design
As predicted, graphic design responded to the needs of virtual events through themes of connection and connectivity. Because of the emotional connection with art, design plays a special, pivotal role in association design in critical times. Looking forward, design will evolve again as society changes, meeting the needs of associations and viewers, to help communicate and captivate audiences around the world.
Learn more about graphic design at AH.