November 17, 2021
Mount Laurel, NJ – November 17, 2021 – The creative team at Association Headquarters, Inc. (AH), a leading association management firm in Mount Laurel, New Jersey and Alexandria, Virginia, is celebrating a winning awards season, taking home four awards from the Association TRENDS 2021 TRENDY Awards and the Graphic Design USA's American Design Awards™.
"What an honor to see the creative team's work recognized, by multiple programs," said Sarah Black, MS, Director of Content and Creative at AH. "The designers are truly innovators in their field, and these wins are evidence of their talent. We're fortunate to partner with such great organizations that share the designers' creative visions and help bring those visions to life."
TRENDY Awards
The TRENDY Awards seek to honor the best in association and non-profit marketing and communications. AH, in partnership with the Restoration Industry Association (RIA), won gold in "Advertising Media Kits" for the design of its 2021 year-round media kit. AH and the American Needlepoint Guild (ANG) won silver in "Most Improved Magazine or Journal" for the design of ANG's flagship publication, Needle Pointers. Association TRENDS hosted a virtual ceremony on October 28, 2021 to present the awards.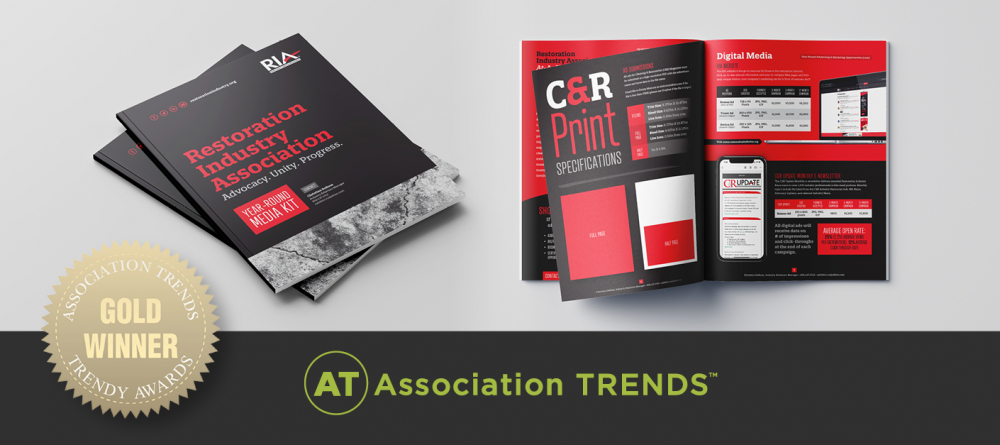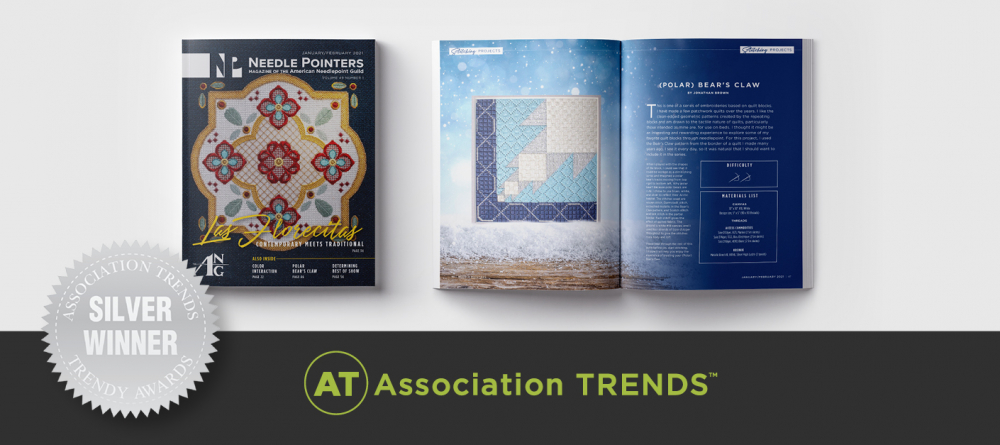 "Needle Pointers showcases how the ancient art of needlepoint continues to evolve and modernize. This new design, resulting from a collaboration between the AH design team and volunteer editors, delivers product news, educational tips, and projects that continue to inspire American Needlepoint Guild members to grow in their passion for the needle arts," said Linda Rand, President of ANG.
"The RIA Media Kit was thoughtfully designed with our audience in mind and incorporates RIA's branding and color scheme in a clean, easy-to-read format. Our conference theme of 'Fragmented No More' is echoed in the artwork and accents in the year-round advertising opportunities the association offers. This kit was a critical sales tool for scaling up advertising revenue and helping foster conversations with potential advertisers," said Christina DeRose, RIA Industry Relations Manager. "On behalf of RIA and their Board, we thank Association TRENDS for this award and recognition."
American Design Awards
GDUSA's American Graphic Design Awards™ is the original and premier showcase for outstanding work done by in-house designers and departments. The winning pieces are chosen from thousands of entries and represent every area of the country, every size organization, every segment of the public and private sectors, and every type of media currently known. Individually and collectively, they demonstrate that the best of in-house design is about creating solutions and adding value to our commerce and our culture.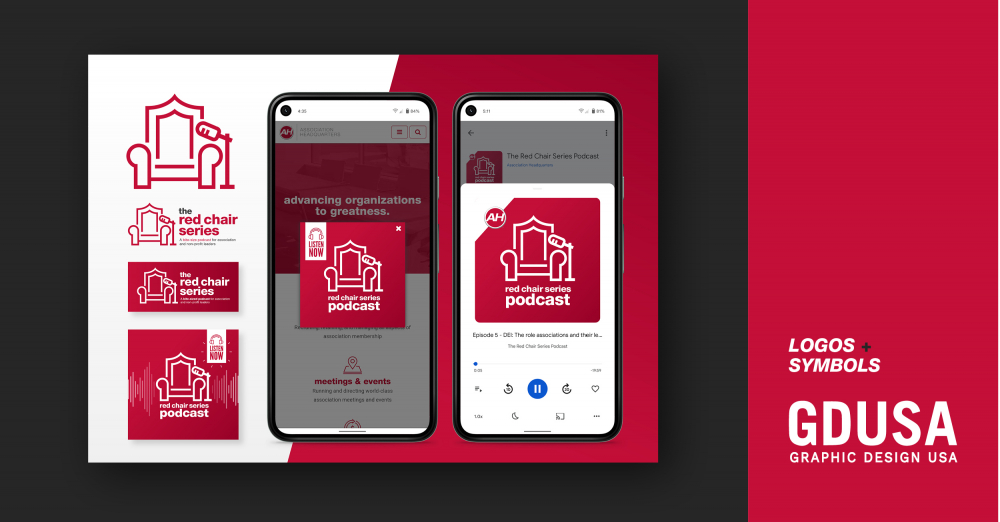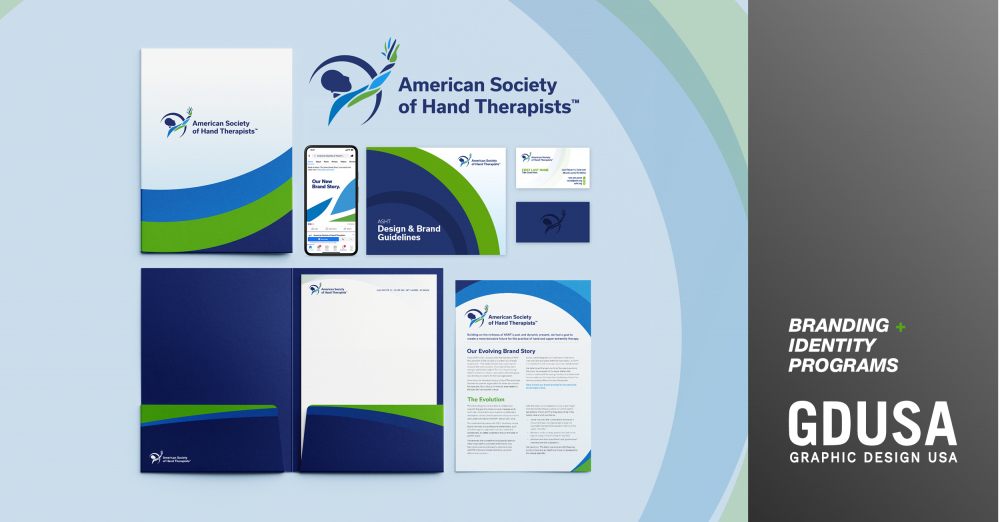 AH recently launched The Red Chair Series Podcast, a new podcast that included a complete branding kit: a logo, color palette, fonts, imagery, website layout, and more. The new suite was submitted to GDUSA's American Design Awards under the logos and symbols category. "AH's podcast was an effort of so many individuals and teams at AH and beyond, so it's particularly rewarding to see the design work on the podcast series recognized," said Black. "The branding work not only incorporated AH's visual identity, but represented the brand in new ways and on new platforms. We've been so proud of this series from the beginning, and this design award is an exciting achievement for everyone involved."
Over the course of 2021, AH and the American Society of Hand Therapists (ASHT) teams worked together to create a complete rebrand for the association, including logo compilation, color palette, fonts, imagery, and tone. It was a herculean effort between the ASHT volunteer leaders and AH design team to bring the rebrand to life."ASHT has a new inclusive identity that clearly communicates who we are and showcases the total area of expertise of those who work in the hand and upper extremity therapy specialty," said Gene Terry, CAE, IOM, Executive Director of ASHT. "Many thanks to the AH MarCom team for everyone's foresight, input, creativity, innovation, and hard work."
See AH's portfolio of design and web work, and learn more about graphic design at AH.
About Association Headquarters, Inc.
Association Headquarters (AH) is a best-in-class professional services firm dedicated to enabling nonprofit organizations to fulfill their missions, create value, and advance their causes, industries, and professions. AH understands association trends and best practices and has professionals experienced in management, meetings, marketing, non-dues revenue growth, technology, recruiting, finances, and more. The Mount Laurel, NJ – based company maintains AMC Institute Charter Accreditation status. The AMC Institute Accreditation program is based on an ANSI Standard. As named by the Customer Service Institute of America (CSIA), AH is a Platinum Certified Customer Service Organization. For more information, visit www.associationheadquarters.com, connect with AH on Facebook, on LinkedIn, and follow us on Twitter.