Innovative Digital Advertising Driving Non-Dues Revenue for Associations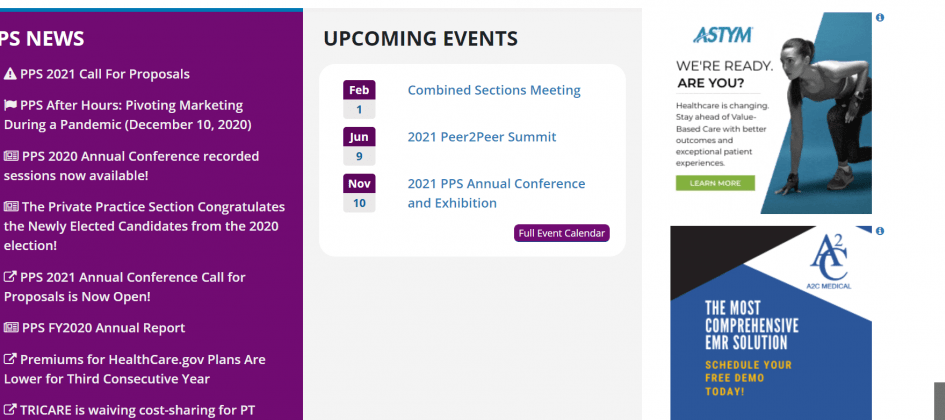 A new take on retargeting yielded incredible results for one AH client partner
Associations' unique, niche audiences appeal to advertisers, whose advertising and sponsorship dollars bring in much-needed non-dues revenue. However, as associations increasingly leverage additional platforms to connect with and engage members, their website traffic and digital readership—and the associated value of advertising on those channels—may be affected.
The Private Practice Section (PPS) of the American Physical Therapy Association (APTA) leveraged the value of their unique audience along with next-level digital advertising to expand advertisers' reach through a sophisticated retargeting campaign.
A New Frontier in Advertising Options for Non-profits
PPS was already looking for new ways to enhance advertisers' investment with the association. 
"We wanted to offer new opportunities for the companies that support us—the advertisers, exhibitors, and sponsors," said Porter Rice, industry relations manager for PPS at AH. "We wanted them to not only reach PPS members, but have a more impactful reach and get those members to engage with whatever they're putting out there." 
Jon Kinsella, director of digital marketing at AH, thought a retargeting campaign might be the innovative approach PPS was looking for.
"I approached Porter and asked if PPS would be willing to test a new, proprietary software and utilize this as an offering for their sponsors," Kinsella said.
The software is a new take on retargeting—a digital marketing tactic that tracks website visitors after they leave your site, serving them relevant visuals or text ads on other websites. It's a gentle reminder of the organization as users browse online, the goal of which is to eventually get users to revisit the website or take action based on the ads they're served. The software would allow PPS to customize their retargeting efforts to extend to their advertiser's ads; now, PPS advertisers' ads would be shown to PPS website visitors as they browsed online, ensuring that their ads are being served to PPS's highly relevant audience in many more places than just the PPS website.
AH implemented a pixel tracking code—a snippet of HTML code that fires when a user visits a website, —on all PPS websites that allowed AH to retarget every website visitor from the last 180 days. AH also built an advanced retargeting framework for PPS through audience segmentation filters based on user behavior. This allows AH to retarget users that have visited either a category of pages, like the member benefits section, or drill down even further by retargeting users who visit one page and not another. For example, AH can identify users who visited the PPS Annual Conference homepage but not the registration page and provide targeted event advertising to them as they visit other websites.
Mutual Benefits
PPS has a variety of digital advertising options including the website, digital publications, and enewsletters, but there remains an opportunity for advertisers to get their message seen by more members and member prospect audiences. The industry average open rate on association emails is 25.2%, meaning that most associations have untapped audiences that advertisers haven't reached through traditional digital advertising options. 
"The kind of campaign PPS ran is especially good for companies looking for premium digital advertising options with a trusted source and partner," said Sabina Gargiulo, vice president of marketing and industry relations at AH. "This creates a way for companies to broaden their reach in a cost-effective way with data analytics to back up the results, providing digital advertising intelligence that should shape their marketing efforts and where they place their resources."
Customized retargeting was an extremely attractive option for PPS because it expanded advertisers' reach in a single spend with PPS. "Sponsors are no longer dependent on their ad being seen by a visitor actively going to the website each time," said Kinsella. They're going through the website once in the last 180 days and are essentially followed across their internet usage moving forward."
In addition to expanding advertisers' reach exponentially in a single investment, the offering is equally significant for PPS as it strives to diversify non-dues revenue sources amid event cancellations. "The Industry Relations team at AH is always looking for ways to help our clients diversify, but much of this was brought on by the need to continue generating non-dues revenue in the face of COVID-19 and create new, valuable offerings that are not event related," said Gargiulo.
End Results
The retargeting campaign lasted just 15 days, but the results were significant.
In a typical 30-day period, an ad on an association website may log about 10,000 impressions. During the retargeting campaign, 342,000 impressions were logged—an increase of 3,200% in just 15 days. In addition, a typical advertisement on similar association websites are clicked about 1.6 times in 30 days, while the PPS retargeting advertisement received 319 clicks during the 15-day retargeting campaign—an 11,900% increase! 
In addition to a staggeringly higher number of impressions, digital advertising costs went down for advertisers. Costs decreased from $60.94 per 1,000 impressions to just $4.39 per 1,000 impressions in the retargeting campaign. PPS also saw the cost per click decrease from $406.25 to $4.70.
"The numbers speak for themselves to the point where, just from that one pilot, we decided to offer retargeting to more PPS advertisers in 2021," said Rice. In addition to expanding the service to PPS advertisers, AH's industry relations and marketing teams have drafted plans to extend the service to more association clients looking to diversify non-dues revenue and strengthen relationships with sponsors and advertisers. 
"This is the kind of opportunity we love to make possible," says Gargiulo. "Not only do clients see amazing results, but their advertisers' investment returns incredible value. That's what we strive to do every time."
Learn more about growing non-dues revenue with AH.