30 June 2020
How Association Leaders Expect to Grow and Thrive in the Wake of COVID-19


 
As we move into a post-COVID-19 world, associations must once again be nimble and adjust to change in real-time. Navigating such significant change can be a challenge for any organization, but recent tools have been developed to help guide the way. ASAE ForesightWorks, powered by ASAE Foundation research, is a "deliberate, evidence-based research initiative and emerging line of products designed to be your partner in environmental scanning and planning for change," is a significant development.
AH's forthcoming Foresight Toolkit, leverages this valuable research to help associations operationalize the practice of strategic foresight methods by embracing forward-thinking as a daily function. This ability to anticipate the disruptive impact of societal transformations like the COVID-19 pandemic will increase the velocity of problem resolution and ensure that associations keep pace with the rapidly changing world around them.
Associations play a big critical role in the COVID-19 pandemic response, from interpreting the impact,helping their members pivot and then preparing a response plan for future crisis. Starting that dialogue on how opportunities emerge out of disruption, six of AH's association leaders shared their foresight and planning processes into how the COVID-19 pandemic will shape the near- and long-term, and how associations will thrive in the wake of these challenging times. Foresight analysis and strategic planning minimize imminent negative impacts, and incorporating a planning process in looking forward negates similar consequences that may arise in the distant future.
An Emphasis on Technology
Associations are no strangers to connecting people virtually. However, Nicolette Zuecca, Chief Staff Executive for the Wound, Ostomy and Continence Nurses (WOCN) Society, uses foresight to predict that the need for more comprehensive remote learning opportunities will lead to more emphasis on emerging technologies like artificial intelligence and simulated learning experiences incorporating augmented and virtual reality (AR/VR). 
ASAE ForesightWorks Driver of Change: Data and Technology;
Action Brief: Anticipatory Intelligence
Evolution of Exam Delivery
Vivian Campagna, Chief Industry Relations Officer for the Commission for Case Manager Certification (CCMC), predicts a radical transformation in exam delivery. For years the certification community has debated the efficacy of proctoring exams remotely without compromising their accreditation. In the past few weeks many of the obstacles have been lifted. To be determined is how potential security issues will be addressed in the short-term during the COVID-19 pandemic and in the long-term as the world fully opens back up after closures. These variables attest to the importance of strategic decision-making.
ASAE Foresightworks Driver of Change: Data and Technology
Action Brief: Fraying Cybersecurity
Expanding Knowledge in the Workplace
Fortunately, the aftermath of the pandemic has a positive impact on some industries according to some foresight analyses. As commercial businesses start to develop new ways to live with a new COVID normal, Michele Buggy, Executive Director for the Indoor Air Quality Association (IAQA), expects to see a surge in positive growth as commercial businesses examine and deploy the latest technologies and methods to ensure that their indoor air quality is top notch. As COVID-19 cases become linked to the reopening of public spaces such as restaurants, schools, medical facilities and residential apartment buildings, increased discussion and awareness of the importance of indoor air quality will create new employment opportunities for association members.
ASAE ForesightWorks Driver of Change: Content, Learning and Knowledge
Action Briefs: Shifting Environment for Content
 ASAE ForesightWorks Driver of Change: Workforce and Workplace
Action Brief: New Forms of Work
Changing Face of Membership
Associations should be on the lookout for younger generations to join their associations and explore how older generations acclimate to a new normal after COVID-19. Elizabeth Franks, Executive Director for the American Needlepoint Guild (ANG), predicts a potential surge of younger members as they stay at home during the quarantine and look for other activities to keep them occupied. At the same time, Franks expects to see older generations, who may have previously preferred travel and in-person events, are now more willing to get out of their comfort zone and embrace virtual meetings/communications during quarantine.
ASAE ForesightWorks Driver of Change:Demographics and Membership
Action Brief: Aging World
Action Brief: Socializing Reshaped
An Opportunity for Data Collection
This is a perfect time to start some new ways of data collection optimization. Nadine Goldberg, Executive Director of the American Neurological Association (ANA), predicts increased opportunities for data collection. ANA will be doing this during their virtual annual meeting specifically during registration, evaluation, and CME collection period, which will provide ANA with a unique opportunity to gather metrics about member and non-member habits, interests, and behaviors.
ASAE ForesighWorkst Driver of Change: Data and Technology
Action Brief: Nichification: Big Data Segmentation
Action Brief: Fast Data
Connectivity and Career Implications
Staying home to do their part to slow the spread of COVID-19 combined with the willingness to embrace digital platforms has encouraged people to find new ways to connect with others. Gabrielle Copperwheat, Executive Director of the Controlled Release Society (CRS), predicts that there will be richer opportunities for global connectivity and more emphasis on building and nurturing international communities of professionals. However, she also foresees potentially less funding for universities and academia due to the shutting down of non-essential research programs that may impact early-career scientists and students.
ASAE ForesightWorks Driver of Change: Economic Conditions
Action Brief: Global Power Shifts
After weeks of quarantine, we all have had opportunities to consider how the COVID-19 pandemic will impact industries and associations. Giving voice to your staff and board leaders will provide fresh insight to your response plan and the strategic planning decisions you make as a result thereof.
Use the survey to collect and evaluate input from staff or leadership to identify any opportunities or potential pain points that can be acted upon. Groups that have done such a survey are discovering that their assumptions are not always universally embraced, giving new fuel to conversations around how your group can proactively respond or pandemic-proof operations in the future. When implementing corporate foresight and planning, keep in mind there is no universal right answer, and strategic decisions based off of future studies should be tailored to your organization rather than blanket assumptions.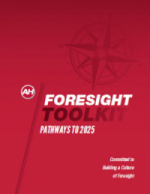 The AH Foresight Toolkit
The Foresight Council at Association Headquarters has developed an internal proprietary toolkit for association executives who are leading their boards and volunteer leaders through exercises based on the ASAE ForesightWorks Research. AH's Foresight Toolkit is geared toward a review and discussion of this research, with an eye toward teaching organizations how to operationalize it based on a strategic prioritization of the drivers of change and action briefs that are deemed the most critical to the organization.
For the first time, AH is giving association executives a glimpse into this toolkit. Fill out the form below to receive a snapshot of the toolkit which is only a small portion of the robust information developed for use internally at AH. This is the first time any part of this toolkit is available to the public!