12 August 2020
Topic(s)
digital marketing
Marketing
Membership
Now is prime time to test out and implement new communication tactics for your association members and prospects


 
Prior to COVID-19, your association communications may have looked different. There may have been a rhythm and dedicated channels used to reach members, prospects, sponsors, and others. However, when COVID-19 struck, associations and members alike experienced a significant shift that affected where and how membership engagement was happening with the association. Suddenly, associations were supplying industry news, insight, and guidance to members who were consuming content as fast as it was pushed out. From virtual events to virtual town halls and more robust social media efforts, this shift brought with it a unique opportunity for associations to implement entirely new communications tactics that they may not have previously used.
Now, as communications have stabilized, there's still a great opportunity for association communicators to adjust and align messaging and current marketing tactics to work with a society living in what is, at least for now, our new normal.
Leveraging Social Media for Membership Marketing
With an active artist community, Pinterest and Instagram represented a new frontier for the American Needlepoint Guild (ANG). These visually oriented social platforms were perfect for ANG to connect with prospective members, who are interested in and value interesting and beautiful artwork. "Pinterest users search for design inspiration, whether it's interior design or stitching design or more, making it a great place for ANG to share content and build relationships with prospective members," said Christina Bertino, ANG marketing manager at Association Headquarters. "At the same time, Instagram has a much younger demographic but is also a very visual platform with needleart influencers." Case in point: one needlepoint influencer has more than 225,000 followers.
According to Bertino, ANG's membership is skewed toward established needle artists but is seeing a surge of interest in needlepoint in younger demographics.
While plans to expand to Pinterest and Instagram were in the works prior to COVID-19, a slew of new content by ANG members—specifically, mini projects appropriate for stitchers of all levels and launched in response to COVID-19 closures—gave ANG a breadth of content to promote on these social platforms, in addition to member work. 
"Content that was developed in response to COVID-19 closures gave us an opportunity to feed these new platforms and have great content to share now and going forward," said Bertino.
Subtle Messaging to Generate Education Sales
While ANG smartly leveraged COVID-19 content to build out new communications platforms, other associations are finding ways to market programs with a nod to circumstances surrounding COVID-19 closures and social distancing recommendations. 
The Indoor Air Quality Association (IAQA) had plans pre-COVID-19 to launch a new suite of on-demand education offerings. When launch time came, the marketing team saw an opportunity to develop messaging that spoke to the circumstances their target audiences are navigating.
"We understand that people are tired of hearing about COVID; they've moved on in terms of what might grab their attention," said Sarah Black, director of content and creative at AH and consultant on IAQA's marketing. "However, they're still affected by it, so our messaging needed to connect with them and their current situation." 
Black and her team drafted messaging that addressed the business owner seeing fewer jobs, highlighting that they can use the down time as an education opportunity to train their staff and increase their skills through IAQA's online education. They also drafted a related set of messaging specifically for technicians, encouraging them to "level-up" during the down time and offering a free class to get started. "We tried to connect with where these audiences might be right now, and it resonated with them," said Black. Messaging was paired with graphics and deployed on social ads.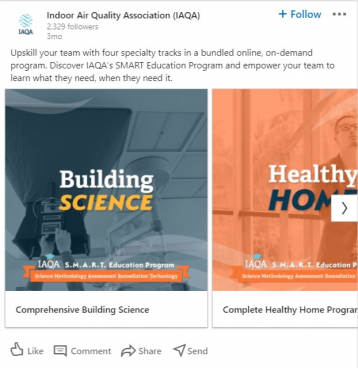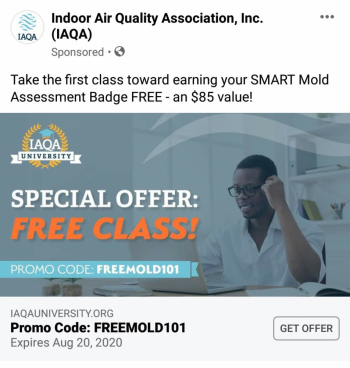 "You want to be cognizant that COVID-19 is still affecting people when you draft current marketing messaging," Black said of how association communicators can connect with their audiences during this time. "In IAQA's case, there was a great opportunity to launch this education product, and the right communication was critical to ensuring it got the attention it deserved."
Refining Data Optimization Efforts
While many associations are experimenting with new communications channels and efforts, others see this time as a way to refine their back-end data collection that feeds a more strategic communications plan.
Jon Kinsella, director of digital marketing at AH says that data collection optimization is a great opportunity for associations to understand their members. He recommends that associations develop a member engagement campaign to understand their users and members.
"My recommendation would be to develop a member engagement campaign that asks them to quickly answer three to five questions to allow you to more effectively communicate on a personalized level to your members," Kinsella said. "Not only is that incredible information to have tied to your profiles, but it allows you then to further collect more data and begin to really create those personalized, intimate relationships with your members."
Collecting this data will enhance associations' digital value propositions (the reason why people should join your association) to their members, increase traffic to your website, build social media engagement, and more.
"All these avenues of communication are now the only way to engage your members. So, it's really important that your short- and long-term strategy prioritizes digital over some of the other avenues," Kinsella said.
Using Social Media Advertising
Often considered something reserved for products and services, social media advertising is a highly effective way to communicate with your audience, says Kinsella. A modest investment of just $500 can super-charge your social content to get it in front of highly relevant viewers—a tactic that associations may find especially important as annual meetings convert to virtual events. "If you have a message you really want to make sure people see, or you have a high-value resource and want to cut through the noise, social advertising can be extremely effective," says Kinsella. 
However, to have social media advertising work well, Kinsella advises that you must have an incentive for people to click on the ad. "The caveat is that you need to attach that advertising campaign to a valuable piece of content," Kinsella said. That exchange showcases your organization's value and may be the impetus of what you hope will be the road to membership.
Social media advertising might not be for every association and certainly isn't for every situation but association communicators may find it to be a useful tool worth deploying as we navigate COVID-19. "It creates a vital opportunity to be in the front and center of your members providing value in a critical time in the world," said Kinsella.
Look Ahead with ForesightWorks

Download a snapshot of AH's Foresight Toolkit Snapshot, based on ASAE ForesightWorks, for help navigating your association through a post-COVID world.

Download now