The members of AH client partner associations are the driving force behind the red chair philosophy
16 December 2020
At AH, we live by the Red Chair Philosophy:
Since 2015, the red chair has been a beacon of AH's unwavering commitment to supporting, achieving, and celebrating the non-profit community. Associations, societies, and credentialing bodies are doing great things to better society and our job is to support them on their journey to greatness, remembering to pause and celebrate when they've achieved it, and be with them as they press on confidently to their next success.
The red chair symbolizes our client partners' seat at the table. It is where they sit while they write their story, make a difference, and advance their mission and cause. Our seat at the table is where we enable them to be their best.
Our clients' stories are our stories.
We don't build rockets or cure disease, but we enable those who do. That's the red chair philosophy.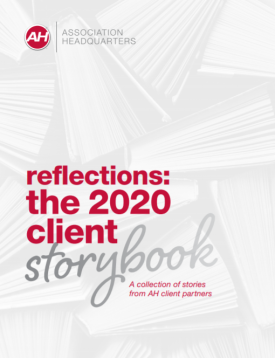 As we reflect on the year that brought a global pandemic, a new way of life, and, potentially, a new normal, it is not without recognition of the people who are making a difference and positively affecting society through their work, passion, and commitment to making the world a better place. They are the members of AH client partner associations.
The members we serve are the inspiration and driving force behind the red chair philosophy at AH.